Powerful Tips for Exercising in the Heat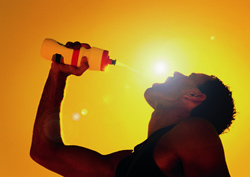 I'm a bit crazy…
I love exercising in the heat. Yesterday, it was scorching hot and my brother and I played a fully 3.5 hours of tennis. It was great.
And, I was just in Phoenix, Arizona last week and my word is that place ever hot – especially in the summer.
If you've ever opened up a hot oven and felt that hot air breeze over your face, then that's a pretty easy way to imagine the crazy 120 degree Fahrenheit (45 degree celsius) weather down there.
Nonetheless, I went for a run at 5:30am while in Phoenix and it prompted me to put this video together for you in which I'll be sharing several tips for exercising in the heat.
Truth be told, exercising in the heat can be pretty dangerous if you aren't aware of some of things I'm about to share with you, especially if you're exercising in DRY heat.
With that said, let's get to the video.
Enjoy…
PS. Do you have any tips for exercising in the heat safely?