Interval Training for Fat Loss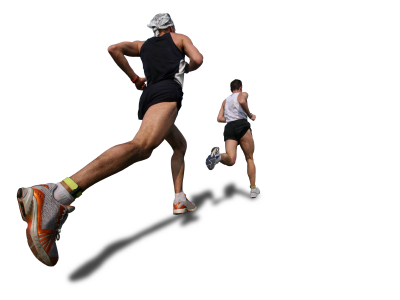 A lot of people ask me about specific types of interval training for fat loss.
So to answer this common question, I've put together this post (and video below) to help you out.
As you know, there are literally thousands of different interval training protocols – 1 minute @ 90% : 1 minute @65%, and so on. But is one more suitable for burning fat then the next?
Are certain fat burning intervals better than others?
Well there's quite a bit of research research which shows that work intervals of less than 15 seconds in length are better.
Why?
Because they tend NOT to increase lactic acid build-up in your muscles. The reason that's important is because lactic acid seems to inhibit your muscles' ability to utilize fat as fuel.
However, when lactic acid is not present, muscle cells are able to use free fatty acids more readily.
Benefit of Short and Intense Interval Training Workouts for Fat Loss
Research published in the European Journal of Applied Physiology compared the fat-burning effects of two different interval training workouts, both lasting 40 minutes.
The first consisted of short intervals lasting 6 seconds, with 9-second rest periods. The second workout involved long intervals lasting 24 seconds, with 36-second rest periods.
It's important to note that the treadmill speed was identical during both the short and long interval workouts. Moreover, the ratio between work and recovery bouts was also the same (ie. 2:3 work to rest), meaning that the total amount of time spent running on the treadmill (16 minutes) was also identical.
Despite the fact that exercise intensity and duration were kept constant during both trials, there were large differences in fat loss.
In fact, the number of fat calories burned was approximately 3 times LOWER during the long (24 seconds) interval workout.
To understand why the short intervals were so much more effective at increasing fat oxidation, it's important to understand a little more about a substance called myoglobin.
Myoglobin
Myoglobin is a large protein that binds to oxygen inside your muscle cells. Think of it a little like a "reserve" oxygen supply. As the blood has hemoglobin, the muscles have myoglobin. Both store oxygen.
It is repeatedly used and reloaded during the work and recovery phases of interval exercise. However, as the duration of the work period increases, myoglobin's oxygen stores are reduced.
Your body needs more oxygen to burn fat as a fuel (compared to carbohydrate or protein). When oxygen supplies become limited, carbohydrates then provide a greater proportion of energy. This is also seen in the "crossover effect" where carbohydrates become the more dominant source of fuel at higher exercise intensities compared to fats which are mainly oxidized at lower intensities.
And furthermore, because lactic acid, a by-product of carbohydrate metabolism, "blocks" fat burning, intense intervals that continue beyond the point at which myoglobin loses its supply of oxygen (usually above 15 seconds or so) rely to a greater extent on carbohydrate as a source of energy and, thus, don't burn as much fat as shorter intervals.
As mentioned, because myoglobin holds enough oxygen to last for 5-15 seconds it would make send to perform short, intense rather than long intervals to promote a greater rise in fat oxidation.
As such, if your goal is to lose fat, then limit your work intervals to a maximum of 15 seconds. Studies also show that shorter intervals don't feel as physically demanding as long intervals which means that you can get better results without feeling like you're working harder.
I've discussed this specific area of interval training in more detail in a previous post showing you why this short type of interval training could be the best exercise to burn fat . It also goes into greater detail about these specific interval training for fat loss protocols.
BUT…
Even with that said, you can STILL burn fat doing intervals that are much longer than 15 seconds.
Heck, you can follow any number of interval training protocols and still lose more fat than by going for a slow jog.
The reason…
Interval training (of any kind) allows you to spend more of your time at higher intensities.
This graph depicts how interval training works…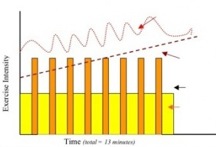 You have bouts of high intensity, followed by bouts of lower intensity. It's these lower intensity recovery bouts that allow you to bounce back and get right back up to near maximal exercise intensity. And that makes sense because you can't sprint for 10 minutes straight but you can certainly sprint several times for 10 seconds each if you break them up with recovery periods.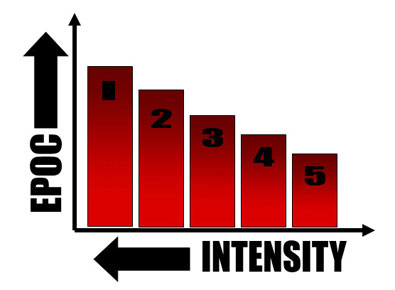 When you spend more time near your maximum heart rate you inevitably increase your body's metabolic rate for several hours AFTER you're doing working out.
Some studies have shown a boost in metabolic rate (aka. EPOC or afterburn) for 36 hours after a workout.
Now, that's what I'm talking about.
Imagine, doing a shorter, more intense cardio session – maybe 15 minutes – and being able to burn calories (and fat) for another 36 hours. That's the power of interval training for fat loss.
And please don't be misled by how many calories the cardio machine is showing that you're burning. In most cases, it's not even accurate. But even if it is, you might not burn as many calories during a 15-minute session as you might while running for 60 minutes…
But you will still be boosting your metabolic rate to a greater degree and for a longer period time thanks to the intensity of your interval training workout.
Make sense?
The greater the intensity you are working out and the longer the duration of the workout, the more calories you are going to burn during and after your workout.
Interval Training for Fat Loss and VO2 Max Improvements
A 2006 study in the Journal of Applied Physiology examined the effects of seven interval training sessions over 2 weeks on skeletal muscle, aerobic capacity, and fat burning adaptations among eight women.
Each session consisted of ten 4-minute bouts at 90% of their VO2 max with 2 minutes of rest between intervals. As a result of just 7 interval workouts (over 2 weeks), the women increased their VO2 max by 13%. Whole body fat burning also increased by 36% after interval training.
The researchers summed up their study by stating that just seven sessions of interval training over 2 weeks induced significant increases in whole body and skeletal muscle capacity for burning fat during exercise in moderately active women. Pretty powerful stuff.
Now, although this study shows some very promising results with the use of interval training workouts, it should be remembered the protocol that was used in the study was a very lengthy 60 minutes of interval training. Don't get me wrong, this is a very effective interval training protocol but it is very difficult for most people to perform. Furthermore, it doesn't exemplify the other true power of interval training – time efficiency.
Personally, I think you can accomplish just as much in 1/3 of the time with a different interval set-up. But that's the beauty of interval training – there are so many possible training protocols that will produce spectacular effects.
However, this amount of training volume could be very beneficial for someone who is training for a half-marathon or other longer duration events.
Before we get to a few specific interval training workout examples, this video sums it all up:
Here are a few interval training examples for you:
Minimal lactic acid production workout:
10 seconds @ 100% (sprint) : 20 seconds @ 65% (light jog) x 20 = 10 minutes
Moderate lactic acid production workout:
30 seconds @ 90% : 60 seconds @ 65% x 10 = 15 minutes
Lactic acid-producing/anaerobic interval workout:
2 minutes @ 85% : 1 minute @ 65% x 4 = 12 minutes
Each of these workouts WILL help you burn fat.
They WILL also improve your aerobic and anaerobic fitness significantly.
At the end of the day, my best advice is to use a combination of different interval training workouts because that way your body never gets used to what you throw it's way. Variety is an important component to progressing and not hitting a plateau.